On this page:
List Travellers
Once travellers have been invited, you can see all traveller invitations. The travellers list will show their status (invited, waiting for approval, confirmed, ...), and provides a quick overview of amount spent on flight fares vs. their budget.
From here, you can remove traveller invitations, as long as they have not been confirmed yet, and navigate to their travel details.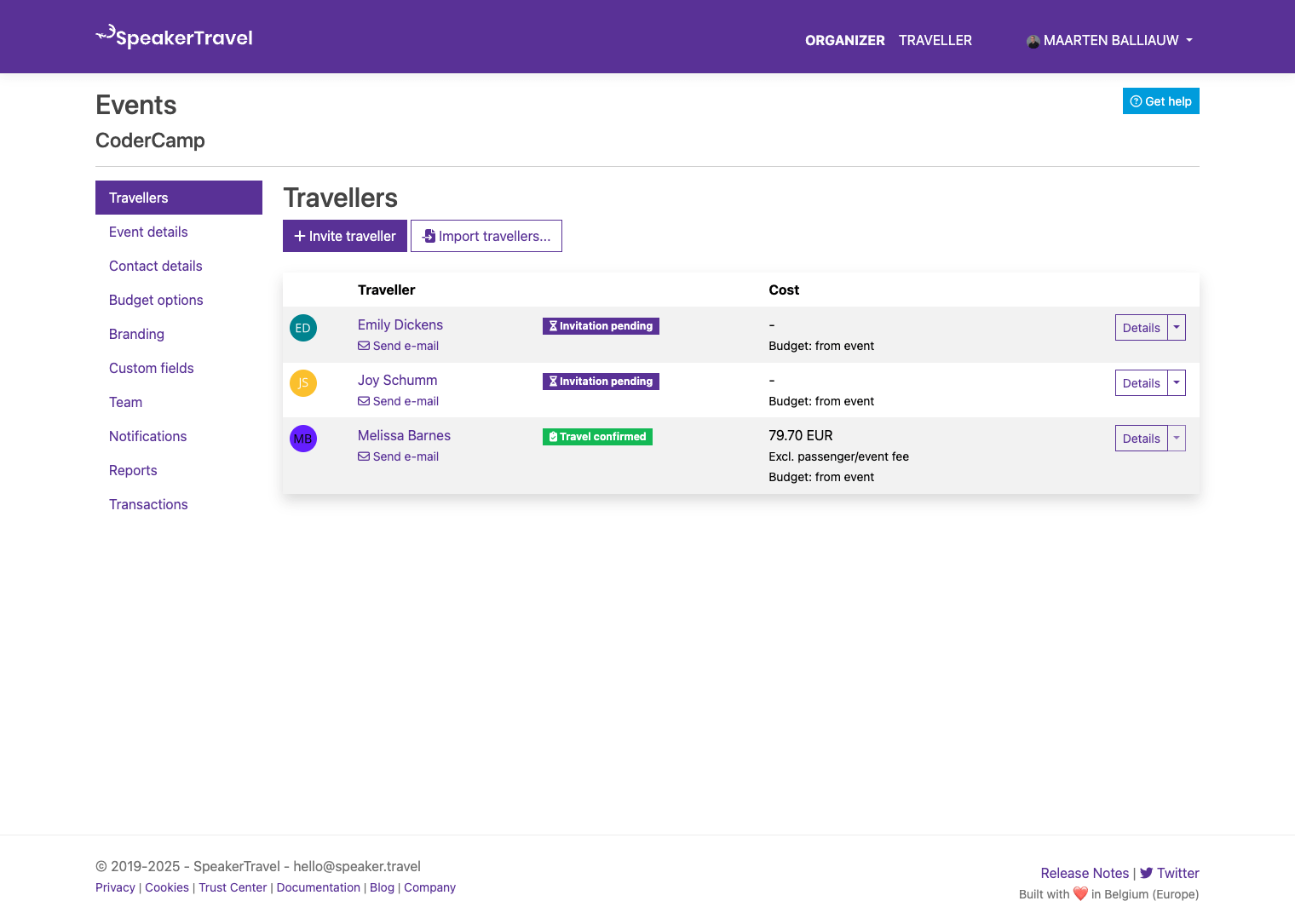 Invite Travellers
You can invite travellers by entering their details. At the minimum, you will need to specify the traveller's name and e-mail address.
There are additional details you can specify, to make budgeting easier, and help the traveller with their flight search.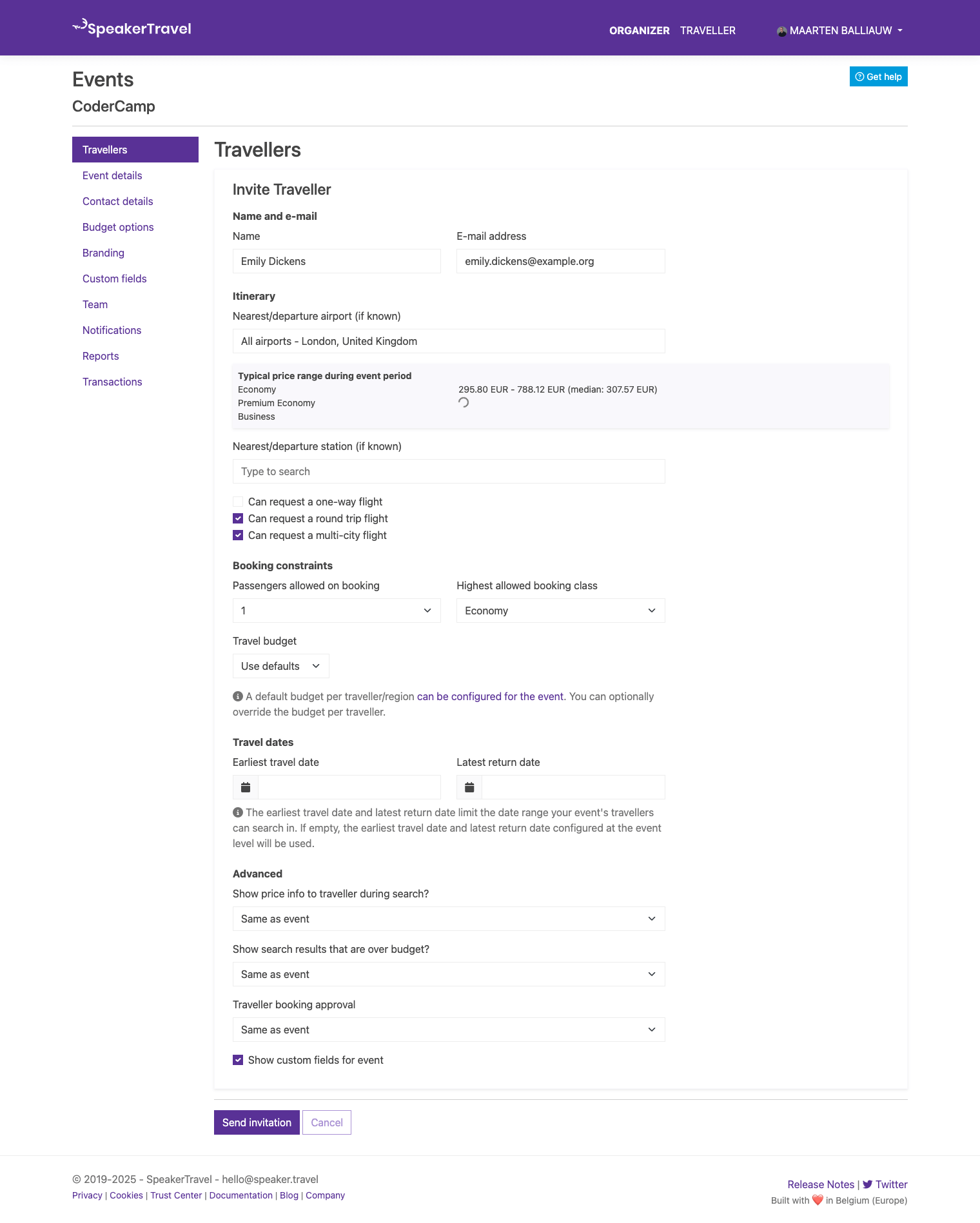 Each traveller will receive an invitation to start researching their journey. Invitation e-mails can be customized from the event branding options.
Nearest Airport
If known, you can specify the airport your traveller will be flying from. During their search, the departure and destination airports will be pre-populated, making it easy for them to get started.
Specifying the nearest airport will also retrieve typical price ranges for economy, premium economy and business flight fares during your event. By having the minimum, maximum and median flight fares at your disposal, setting the budget for your traveller becomes easier.
Budget
For every traveller, the default budget configured for the event is applied.
You can override the default budget per traveller:
Use defaults – Use the budget specified at the event level.
Fixed amount – Specify a budget amount, and an allowed budget overrun percentage.
Any amount – Effectively disables the budget for this traveller.
SpeakerTravel will only show flights that are within the budget (+ overrun percentage) during flight search.
Maximum Booking Class
Each traveller can be assigned a maximum booking class. This will prevent travellers from booking business class tickets if the event only allows for economy fares.
Number of Passengers
By default, only one passenger is allowed per booking. This can be increased up to 4 passengers.
For example, if a traveller's partner is also joining, this would allow the traveller to book their flights at the same time. Note that in such scenario, the event owner will have to arrange for optional reimbursement with that traveller.
Travel dates
If needed, you can set the earliest travel date and latest return date for an individual traveller.
The earliest travel date and latest return date limit the date range your event's travellers can search in. If empty, the earliest travel date and latest return date configured at the event level will be used.
Advanced Options
Travellers will not see flight fare price information while searching flights. Optionally, you can show price info to a specific traveller, or to all travellers of your event.
Each booking request has to manually be approved by the event owner. Optionally, you can auto-approve flights for a specific traveller, or for all travellers of your event when the request is within budget.
An event may collect additional data using custom fields. For a specific traveller, you can show (default) or hide the custom fields during booking.
Traveller Details
For each traveller, you can navigate to their trip details. Depending on the status of their booking, you can see the traveler status, activity history, add comments to the activity history, and more.
You'll also be able to approve/reject their booking request, or view their travel itinerary.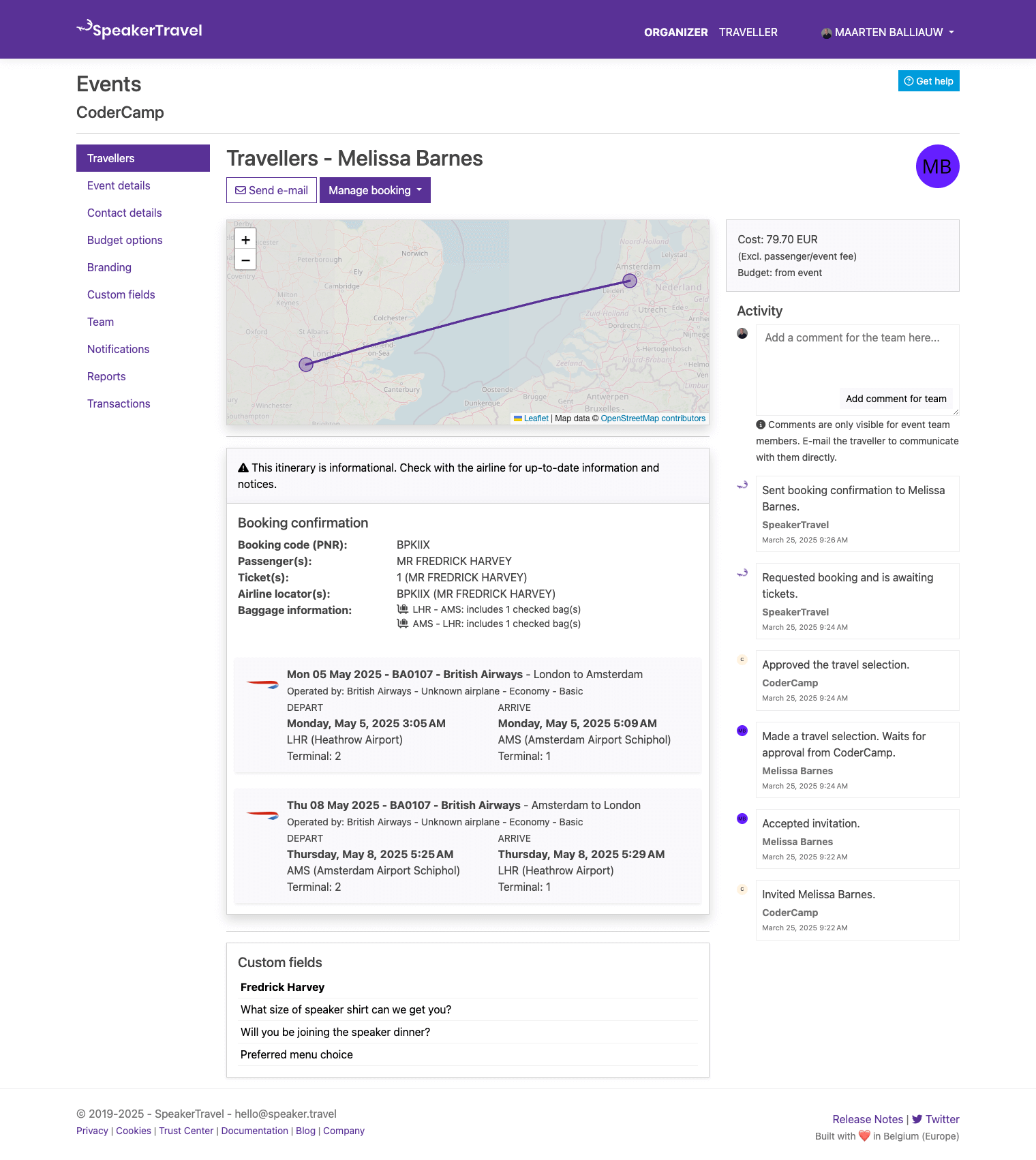 Approve Booking Request
The event organizer will receive a booking approval request, once the traveller finishes their flight search.
As an organizer, you can review the selected flight(s), booking class, and price information.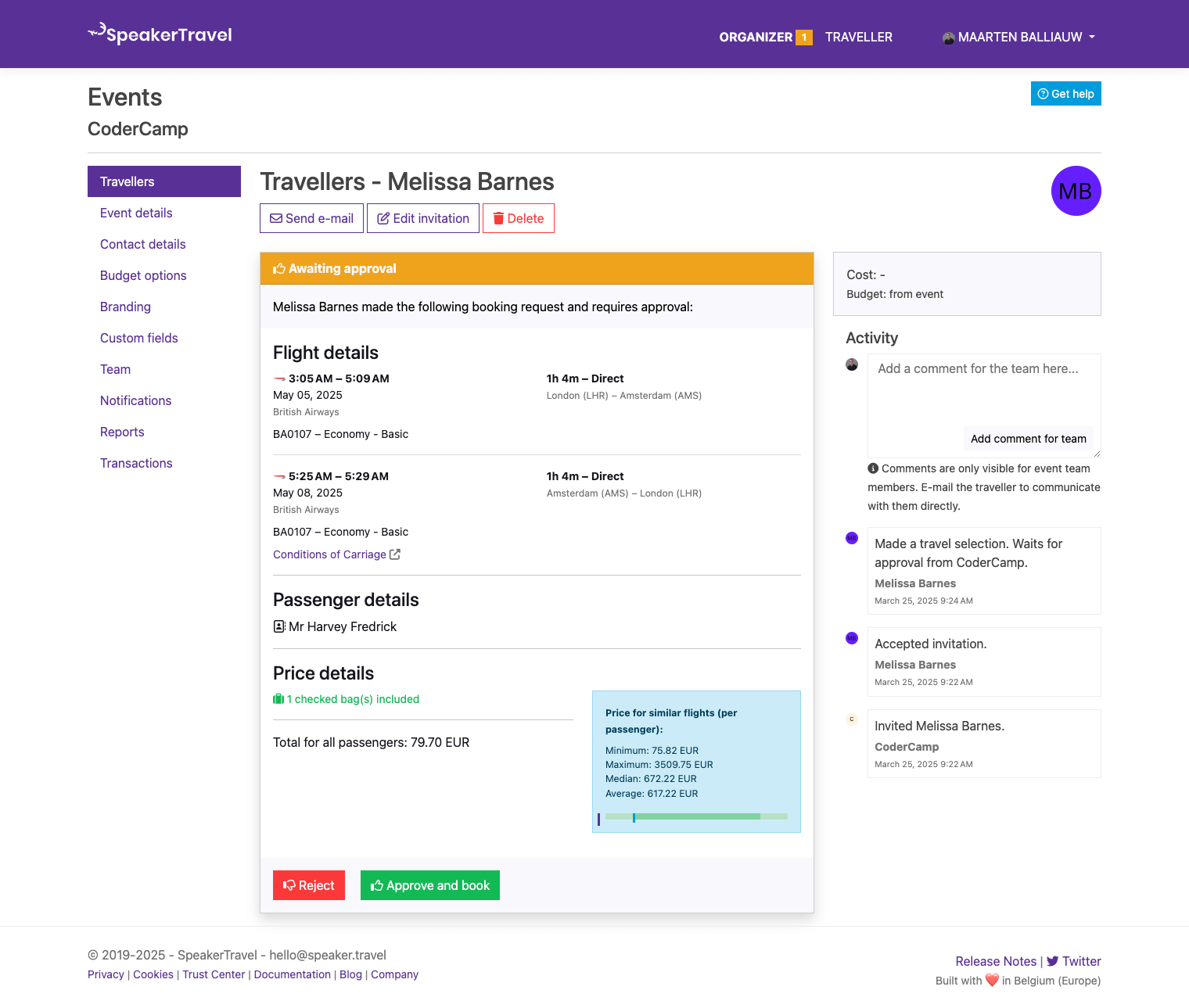 Next, you can approve the flight booking. This will book the selected flight, and send ticket information and a travel itinerary to your traveller.
Optionally, a booking request can be rejected. After specifying the reject reason, the traveller will be invited to make a new flight search.